The government of Haryana has made registration of property-related transactions online to help buyers streamline the process and save time in the sub-registrar's office. While the complete process is yet to take shape, the Jamabandi portal is one of the useful portals for first-time property buyers.
Here is a step-by-step guide for registering property online-
Step 1- Submission of deed
For preparation of deed
*Visit jamabandi.nic.in
*Under property registration menu, find 'Deed Templates' option.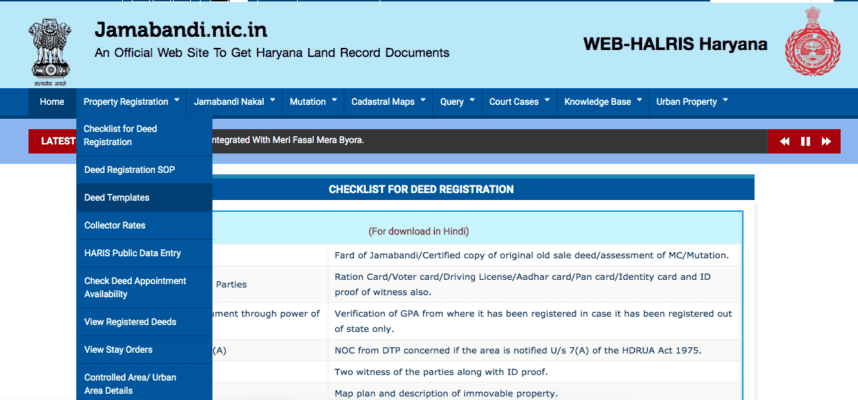 *Purchase e-stamp online or from banks. This will be verified by the concerned sub-registrar.
*Under property registration menu on home page, choose 'Check Deed Appointment Availability' option.
* Applicants need to submit one copy of the deed online.
Appearance before sub-registrar
*Applicant needs to be personally present for biometric and photo verification at the sub-registrar office and submit one physical copy to the sub registrar concerned.
*Applicant needs to pay the stamp duty and registration fee manually at the concerned office.
Check applicable stamp duty rates
Delivery of deed
*Applicant needs to appear at the sub-registrar office with the appointment slip. The deed will be handed over to the applicant here.
Documents required
*Proof of ownership- Certified copy of original old sale deed or mutation certificate.
*Identification of the parties- Voter ID card, Aadhar Card, Pan Card.
*Registration of document through PoA- Verification of Power of Attorney
*NOC- No Objection Certification from DTP concerned
*Witness- Two witness of the parties along with ID proof
*Map plan and description of immovable property
*Digital photograph of plot
*Mutation of Virasat for identification of ancestral property in case of release deed