The Maharashtra Housing and Area Development Authority (MHADA) has announced results of housing scheme offering 1,384 units in various categories across Mumbai. The last date for filing application wass December 10 while the lottery was held on December 16 at Bandra East Headquarters of Mhada.
How to check winner's list
Applicants can check the list of winners on https://mhada.gov.in/en/mumbai-board-lottery-2018-results. The lottery results have been listed scheme-wise, description of tenements and income group.  Almost 1.64 lakh applications were received by the board for 1,384 flats while 80 applicants were received for the costliest flat.
Location on sale
Localities like Antop Hill, Pratiksha Nagar, Sion, Gavhanpada Mulund, Mankhurd, Siddharth Nagar in Goregaon West, Mahavir Nagar in Kandivli West, and Tunga Powai are on sale.
Pricing of MHADA homes
An EWS flat is available at a starting price of Rs 14 lakh while a LIG unit is available from Rs 20-35 lakh. A MIG tenement is priced for Rs 35-60 lakh and HIG apartments from Rs 60 lakh to Rs 5.8 crore. Buyers are required to pay stamp duty over and above the cost of the unit.
Eligibility for MHADA Lottery 
The applicant should be at least 18 years old.

The applicant should have a Domicile Certificate, proving that s/he has stayed for 15 continuous years in Maharashtra.

Income proof for the financial year (average monthly income, excluding reimbursable allowances like transport, medical, laundry allowance, etc.): Economically Weaker Section (EWS) – up to 25,000; Middle-Income Group (MIG) – Rs 50,001 to Rs 75,000; Lower-Income Group (LIG) – Rs 25,001 to Rs 50,000; High-Income Group (HIG) – Rs 75,001 and above.

The applicant should have a PAN card
Steps for applying for the MHADA Lottery 2018
Interested applicants can follow these steps, to apply for MHADA Housing Scheme 2018
Step 1
Log on to the MHADA Lottery website.
Step 2
Register yourself on the portal. For this, you need to create your username and fill basic information such as name, family income, PAN card number, date of birth, occupation, marital status, gender, residential address, own mobile number, etc.
Ensure that the mobile number furnished by you is in working condition, as this will be used for future reference.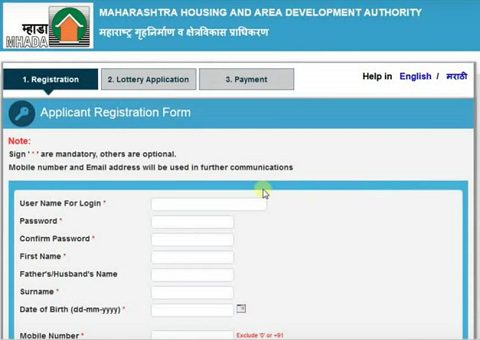 See also: MHADA areas to be redeveloped by charging only premium
Step 3
Once the username is created, you can login again to apply online. After logging in, you would be able to see the schemes that are presently available. You can select MHADA Lottery from the option and feed in the personal details, such as income group, reservation category and applicant type. You also need to enter the scheme code, which you can find in the annexures available online or in the brochure. The scheme code basically refers to the location you have shortlisted. Mention your bank account details and acknowledge the undertaking that you or your immediate family members do not own any other property in the city. Also, mention the present residential address for communication. Confirm all the details mentioned by you.
Step 4
Once you have applied online, you need to pay the application fee. You can make the payment through demand draft or online through debit card, credit card or NEFT/RTGS. For making the payment online, login to your account. You will be able to see the payment options along with the list of schemes that you have applied for.
If you are paying through demand draft, print the application form and submit it along with the DD in the designated bank. If you are paying online, upload a cancelled cheque and make the payment to the MHADA bank account. You can generate the payment slip from the payment portal and keep it for future reference.