Boldt Castle on Heart Island, New York
The story of Boldt Castle is one of love and loss, like many other great love stories. The castle was commissioned in 1900 by George C. Boldt, a famous and wealthy hotelier, as a symbol of his overwhelming affection for his wife Louise. It was to be a grand 5-acre estate in the Thousand Islands, with eleven buildings, and magnificent gardens.
Boldt had planned to present his wife the estate on Valentine's Day 1905, but sadly Louise passed away four years into the construction of the castle, in 1904. Shattered at this loss, Boldt halted all construction, and vowed never to return to the island again.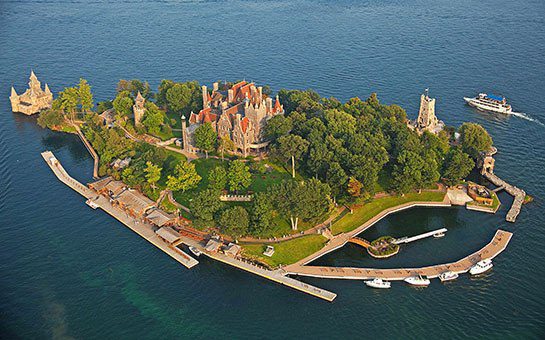 The story does have a happy ending though. The castle is now frequently used as a wedding venue!
The Petit Trianon, France
Petit Trianon, a small chateau on the grounds of the Palace of Versailles, was built between 1762 and 1768. Considered as one of the most beautiful landmarks in the palace, it was constructed on the orders of King Louis XV, who wanted to gift it to his mistress Madame de Pompadour. However, she sadly died four years before the completion of the beautiful retreat.
In 1774, Louis XV's successor, King Louis XVI gifted the retreat to his 19-year old Queen, Marie Antoinette. Bored by the formality of life as a Queen, and tired of the ways of the French Royalty, Marie Antoinette treated the Petit Trianon as her sacred hideout, and allowed no visitors or servants.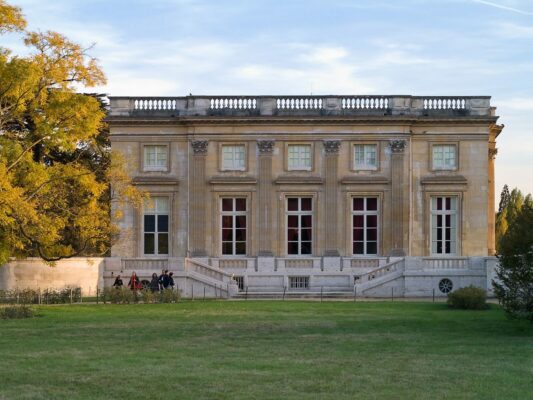 Even though the chateau could never be enjoyed by its intended occupant, it is a testament to the love and luxury afforded to Marie Antoinette by her King.
Swallow's Nest Castle, Ukraine
The Swallow's Nest, more of a fortress than a mere castle, is situated 130 Feet above the Black Sea, in Crimea, Ukraine. Not much is known about the history of this majestic neo-gothic structure, also called the 'Castle of Love'.
It was built by a German noble in 1912, and made its humble beginnings as a small wooden cottage. Legend says that when the noble visited the magnificent Aurora Cliff during his honeymoon, he felt the place deserved an equally magnificent, romantic castle. So, he built one!
The castle was used as the couple's personal retreat during their lifetime, and later fell into disrepair for several decades. It has since been restored, and is now frequented by tourists who flock there to enjoy the view, and couples who wish to dine in the restaurant within the romantic castle.
Kellie's Castle, Malaysia
This beautiful structure is Malaysia's oldest castle, and is situated in the town of Batu Gajah. The architecture looks different to what you would expect to see in an East Asian country, and there is quite a sweet story behind it!
The idea to build the castle came to William Kellie Smith when he saw that his beloved pregnant wife Agnes longed to be back home in Scotland. They'd married in the early 1900s, and moved to Malaysia, where William had amassed a small fortune as a plantation owner. Since they couldn't travel back to Scotland, he brought Scotland to Agnes! The hilltop home follows the same architectural style of Scottish castles, and was a gift to Agnes to replace their small wooden home.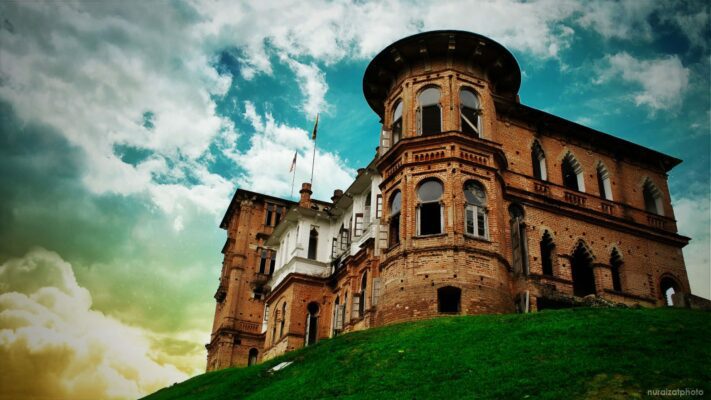 After William's untimely death in 1926, construction of the castle was stopped, and the structure abandoned. The Malaysian government has since made efforts to restore it. However, the main attraction of the castle ruins is the fact that they are rumoured to be haunted!
Mystery Castle, Arizona
Not all eternal love is romantic, and not all castles are majestic. The story of the Mystery Castle in Phoenix, Arizona, is one of the unparalleled love between a father and daughter.
Boyce Gulley moved from Seattle to Arizona in the 1930s on learning that he had tuberculosis. He would never see his daughter and wife again before he died in 1945, and in that time he built a castle for his princess – his beloved daughter Mary Lou. Gulley used inexpensive, scrap material including mortar, calcium, cement, automobile parts, pieces of railway tracks, etc.. The home even has a chapel, dungeon and saloon!
Gulley's daughter and wife found out that they had inherited the castle as their home only after his death. Since then, Mary Lou and her mother lived there for several years, and even started offering tours of the home.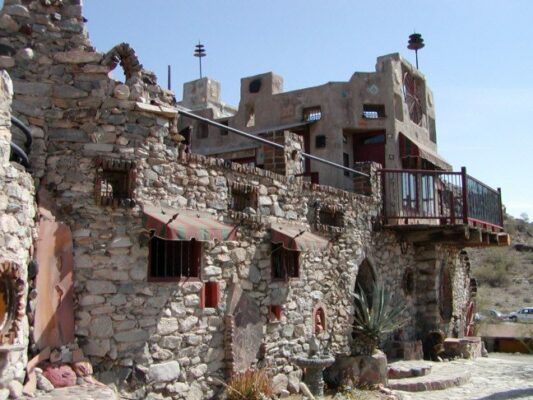 After Mary Lou Gulley's death in 2010, it is rumoured that the state of Arizona will take ownership of Mystery Castle, and declare it as a historic site. 
Image Sources:
Boldt Castle – http://dailym.ai/1QdH5yG
Petit Trianon – http://bit.ly/1uU0b2g
Swallow's Nest Castle – http://bit.ly/1AzQ6Zp
Kellie's Castle – http://bit.ly/19hkAVx
Mystery Castle – http://bit.ly/1Dr4C6j