With the introduction of more lines, however, it looks like the Metro is finally becoming an actual travel option. As we wait for the metro in Bangalore to become fully functional, what one can also do is hop on to any one of the operational lines and explore the city, or to be a part of it without worrying about traffic or parking.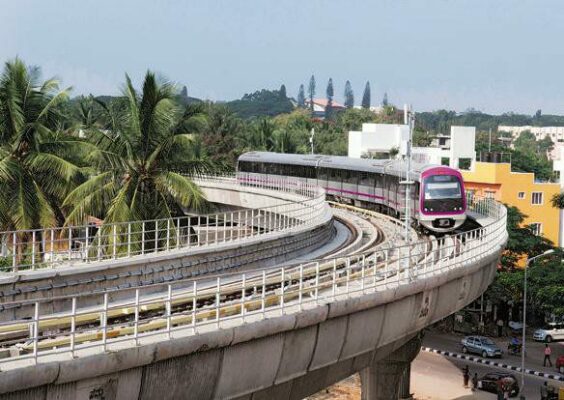 The Purple Line, where it all began
Begin your journey with the purple line. It operates from MG Road  to Byappanahalli. The biggest hurdle before you begin will be finding a place to park your vehicle without having to donate a small fortune to the nearest parking facility on MG Road.
Buy yourself a smart railway token or card from MG Road to Byappanahalli. This coin/card will most certainly have to be refilled in between at one of the stations. Once you have your token in tow, walk up to the platform and wait for your train diligently. Between each train that has left the platform and the one that will arrive you have 10 minutes. Hop onto the nearest coach once your train has arrived and take a moment to marvel at the commendable job done by the railway authorities.
Your first pit stop will be Trinity Circle. As you get off at this station, depending on the time of day you find yourself here, you have a whole range of things to do. If you have reached here around breakfast time, there is the famous Adigas, right opposite to the station. If a fancy continental menu is on your mind, then head to either Oberoi or Vivanta by Taj; both of them have an elaborate breakfast buffet every single day. Coffee Bean, Tea Leaf, and The Puff serve delectable gourmet bakery products. If you have reached around noon, the famous One MG Mall is a good place to spend an afternoon and then maybe a short walk to Lido to watch a movie will complete your evening. If parties fascinate you, The Park and Taj Vivanta are good options. Before you head back to the station, take a walk around the locality as it is filled with boulevards and churches.
Halasuru, or popularly known as Ulsoor, is the stop after Trinity Circle. One side of Halasuru is full of quaint cafes, art shops, and chocolate boutiques. The other side of the area has a number of small churches, small bylanes selling a potpourri of items ranging from gold and silver to hosiery and a colorful market selling perishables like fruits, vegetables, and flowers. In the midst of all this is the scenic Ulsoor Lake. Take a walk around this lake before you decide which side of Ulsoor you want to explore for the day. Also in a walking distance is the oldest temple in Bangalore, the Halasuru Someshwara Temple, dating back to the Chola period. Visit this temple dedicated to Lord Shiva which is sure to mesmerise you with the intricate carvings and the alluring idols.
Once Ulsoor has been tick marked, Indiranagar  will be your next stop. Indiranagar also happens to be one of most coveted localities where you can spend an entire day without getting bored as you eat, shop, make merry, and celebrate. The metro station in Indiranagar is located off the 100 Feet Road. Once you are out of the station and before you begin the Indiranagar leg, stop at Yogisthaan Café for a healthy dose of organics. Then, decide if you want to quickly get a drink at the numerous watering holes, shop at an independent boutique, daft in and out of high street brands, or eat at places serving several cuisines in this area that boasts of the modern Bangalore infrastructure mingled with art. If you find yourself in Indiranagar post sunset, make sure to pop into one of the numerous live music shows happening in the restaurants spread out on 100 Feet Road. After an exciting time at Indiranagar, as you walk back to the station, take reminiscence of the experience so far.
The next two stops are Swami Vivekananda Road and Byappanahalli. These areas are predominantly residential and there is little a traveller gets to do here.
The Green Line that brought more hope
The second line that started is the Green line, which starts at Sampige Road in Malleswaram, passes through Peenya's industrial estate and ends at Nagasandra, making up 13 stations. This line offers a complete opposite experience of the Bangalore infrastructure and lifestyle when compared to the Purple line.
Your journey begins well before you even get onto the train. Malleswaram,one of Bangalore's oldest localities, has a wide range of dosa joints, filter coffee stands, street food stalls, and other charming outlets. Go on a walking tour and admire the coexistence of rustic buildings and characteristic bungalows along the roads lined with trees that can teach you history as they are mostly centenarians. Marvel at the burgeoning art scene on the walls of dilapidated buildings, compound walls of government schools, and at the Malleswaram Indian Railways station by prominent artists.
The next couple of stops of the Bangalore metro is Srirampura and Kuvempu Road. If wholesale markets interest you, then we suggest that you get off at Srirampura, where you will find one of the biggest fabric markets. Their billing system is by kilograms, so grab as much as you can carry before you move forward.
Rajajinagar and Mahalakshmi Layouts offer similar experiences. Both being residential areas, quiet and peaceful, small South Indian joints, markets selling perishable goods, parks, and temples are what they have to offer. Unless you have never been to these places and are a true explorer by heart, then a walk in the by lanes of these areas is a good call.
Mysore Sandal soap factory in Rajajinagar is the next stop on this line. The famous Iskcon temple in all its glory is what you will see. Take a spiritual tour of this marbled beauty and then drop in to Orion Mall located in the parallel road. It is one of the biggest malls in Bangalore, with some of the most famous stores. Shop, eat or watch a movie here, or maybe visit District 6, one of Bangalore's best breweries, or High Ultra Lounge located adjacent to Orion.
Yeshwanthpur, Yeshwanthpur Industry, Peenya and Peenya Industry have a lot to offer if you are a street style photographer documenting the stillness of everyday life. The market of Yeshwanthpur and the industrial areas offers myriad pictures depicting the disparity of any modern city like no other place can. If you do decide to walk around these lesser known areas of Bangalore before heading back, be prepared as it can slightly overwhelm you.
The last stop is in Nagasandra which, again, is a residential area which doesn't offer much to a traveller exploring the city.
The Rest of Namma Metro
With two other lines – Yellow and Red – planned, residents of Bangalore will be able to travel from one end of the big city to the other in a matter of minutes, beating all the traffic troubles that the city has now become notorious for. The completion of all the lines, which is said to be done by the end of 2019, will mean the connection of Kengeri and Whitefield by the Purple line, BIEC on Tumkur Road and Anjanapura on Kanakapura Road through the Green Line, Gottigere and Nagawara through the Red line, and RV Road and Bommasandra through the Yellow line, with four intersections connecting all the lines.
The wait for a fully functional metro in Bangalore can be slightly painful. While you are at it, make the best of the situation by exploring the city as if you were a traveller in your own city. The experiences and encounters such trips can give you will be cherished while you take a nostalgic trip down memory lane in the future.
Image Credits:
http://bit.ly/23WGhCp
http://bit.ly/1Qr4xCH