Filmmaker Sruti Harihara Subramanian of Chennai, believes in leading a green lifestyle and inspiring others to do the same. Subramanian runs 'Goli Soda' – a retail store that provides a platform to inventors, designers and people who want to make a change in the environment and society through eco-friendly products.
"My personal endeavour, to lead a sustainable lifestyle and use eco-friendly products, led me to start Goli Soda in Chennai, in 2013," recalls Subramanian, who believes that change first begins with oneself.
"I realised that alternatives were not available, unless I went in search of it. For example, when I was looking for eco-friendly detergents and floor cleaners, I had to hunt for it and source it from a remote store in Chennai. This led me to start a store that stocks eco-friendly products. To make sustainability possible, it is important is to give people access to such products," she elaborates.
Subramanian also has a garden on her terrace and practices composting.
Products, for every need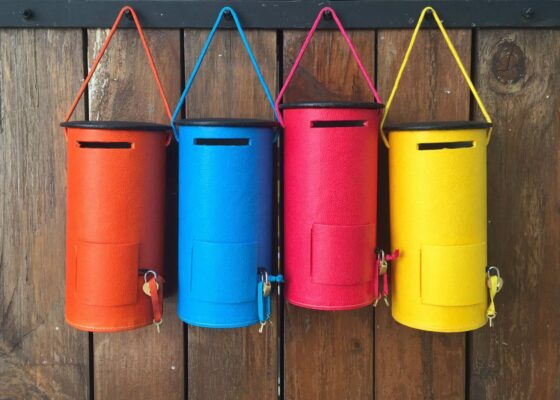 Goli Soda has products that are upcycled, organic and environment-friendly. Its large range includes clothes, accessories, home décor items (such as clocks, coasters, photo frames and vases made from old bottles), stationery items, bags, natural cleaning products like detergents, floor cleaners and dish wash powder, compost, seeds and also sanitary napkins. The store itself has been designed with recycled wood and fruit crates.
See also: Don't recycle! Upcycle
"Upcycling is giving new life to old discarded items. It is the process of converting waste materials into new products of better quality, or for better environmental value. We have products made from tyres, pouches made from milk packets and boxes made from tailoring waste. We are particular about quality. It is important to retain quality in terms of design, as well as materials being used," maintains Subramanian. The inspiration for the name Goli Soda, came from the 'goli soda' bottles which can be re-used. These glass bottles can be washed and refilled and have been in use for years in India, unlike other cold drinks that come in plastic bottles.
The enterprising lady also organises regular workshops on various subjects, like organic terrace gardening, making compost and energy conservation. She is also planning an online venture of Goli Soda, to reach out to more people.
"Small changes in our lifestyle that each one of us can make every day, will create a huge difference in reducing our carbon footprint. Buy less, waste less and live in harmony with nature," she concludes.
Tips from Sruti Harihara Subramanian
Use eco-friendly detergents and dish-washing soaps, so that the water can be easily recycled.

Reduce energy consumption at home. Get into the habit of switching off fans and lights, when not in use.

Grow some plants at home on the terrace, balcony or window sill.

Always try and recycle things at home. For example, old furniture can be repainted or repurposed. Instead of buying new furniture, opt for old and used pieces.

Use recycled glass bottles for growing plants.

Water used to wash vegetables or fruits, can be recycled to water plants.

Get into the practice of segregating waste in your home. You can use the wet waste to generate compost and fertilise your house plants.

Avoid using plastic and disposable items.